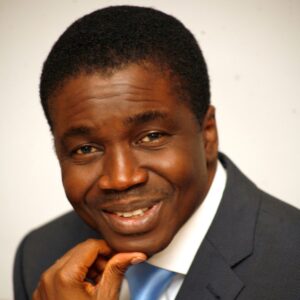 David Olatunji Abioye is a Nigerian Christian author and preacher. He is the first vice president of Living Faith Church Worldwide. He is the bishop and senior pastor of the Abuja (Goshen City) church, which has a congregation of over 30,000.
Born into a family in Kwara State, Abioye is married to Mary Abioye and has three children. He studied mechanical engineering at the university.
He worked as a lecturer at Open Cast Polytechnic, Auchi, from 1985 to 1986, and wanted to start a technology company to shore up his finances. However, when he met the future founder of Living Faith Church Worldwide, David Oyedepo, on a Christian scholarship in the 1980s, he was inspired by what he saw as his passion and love for God.
Over the years, their relationship evolved from a brotherly friendship to a spiritual mentor. After Oyedepo left for Lagos, he served as the senior pastor of the Garden of Faith in Kaduna, which was the former national headquarters of the church. In 1993, he became bishop of the church. In January 2014, Nigeria's president, Goodluck Jonathan, visited Abioye and attended one of the church's services in Abuja. In June 2015, shortly after the election, the Speaker of the Nigerian House of Representatives, Yakubu Dogara, held a thanksgiving service at his church.
Obviously, nobody likes to fail. Yet, at one stage or the other in life, we all have experienced failure. Bishop David Abioye sets in this book to drive home the fact that failure is not stranger, it is common to all, but what you do with failure is what determines your outcome. He says, "You aare not a failure just because you failed, you can always create a new beginning for yourself"

If you have failed so many times that you have resigned to fate, this book is what you need to process your failure into sucess.

8.500

CFA