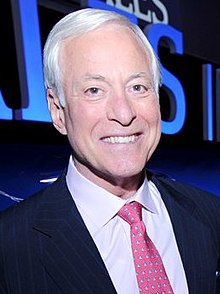 Brian Tracy is a Canadian-American motivational public speaker and self-development author. He is the author of over eighty books that have been translated into dozens of languages. His popular books are Earn What You're Really Worth, Eat That Frog!, No Excuses! The Power of Self-Discipline and The Psychology of Achievement.
Tracy is the chairman and chief executive officer (CEO) of Brian Tracy International, a company Tracy founded in 1984 in Vancouver, British Columbia, Canada. It sells counseling on leadership, selling, self-esteem, goals, strategy, creativity, and success psychology. It is headquartered in Bankers Hill, San Diego, California.
Prior to founding his company, Tracy was chief operating officer of a development company. He is currently the president of three companies headquartered in Solana Beach, California.
In 2003, Tracy stood as one of 135 candidates in the California gubernatorial recall election on an independent platform, receiving 729 votes. His campaign was featured on the BBC Sunday morning radio show Broadcasting House, where each week presenter Eddie Mair phoned Tracy for an update on how the race was progressing. On election day, Mair flew to California to meet with Tracy in person, only to find that he had gone to Dubai during the final week of campaigning.
Brian Tracy has been a trustee of the conservative think tank The Heritage Foundation since 2003.
Master the 12 disciplines of powerful leadership and lead your organization to greatness

We've all heard the phrase "born leader." Leadership experts Brian Tracy and Dr. Peter Chee are here to debunk the myth that you either have it or you don't. That leadership is a talent bestowed on some and not on others. That in order to lead effectively, you have to have it in your genes.

The authors assert that great leaders are made, not born. Everyone has the ability to shape himself or herself into the kind of person who enables and uplifts others to reach their highest potential–and in 12 Disciplines of Leadership Excellence, they reveal exactly how to achieve it.

It all starts with discipline. In this groundbreaking book, the authors break down great leadership into 12 disciplines, including:

Clarity

 . . . about who you are, where you are going, and how to get there

Control

 . . . build and bolster your sense of personal responsibility and self-mastery

Character

 . . . dedicate yourself to passionately build trust with honesty and integrity

Competence

 . . . commit to constant never-ending improvement and learning

Caring

 . . . because when you care, your people care in building great working relationships

Courage

 . . . moving out of your comfort zone to embrace change and make tough decisionsOne at a time. Don't try to take on too much at once. Choose a discipline and live it until it becomes a habit of excellence. Then move to the next one. It will take time–but all life-improving endeavors do.

Read this practical, inspirational guide and every day you will take one more step to becoming a highly effective leader.

17.000

CFA