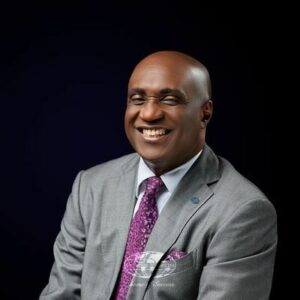 David Ibiyeomie is a Nigerian televangelist, founder and senior pastor of Salvation Ministries, Port Harcourt, Nigeria.
David Ibiyeomie attended Banham Primary School, Port Harcourt, Rivers State, Nigeria from 1969 to 1974 for his primary education. He went to Government Secondary School, Borikiri, Rivers State, Nigeria. After that, he was admitted to Rivers State University, Port Harcourt, for a degree in Microbiology in 1980.
After completing his Bible School training at Bishop David Oyedepo Faith Bible Institute (WOFBI), Ibiyeomie started a fellowship with his family on Victoria Island, Lagos; he later moved to Port Harcourt, Rivers State, where he founded Salvation Ministries (Glorious Chapel) on April 13, 1997, with just over twenty members present.
In July 1997, the church moved to a larger plot of land. In 2017, Salvation Ministries averaged about 50,000 attendees each Sunday at its headquarters. In February 2011, Salvation Ministries launched 14 satellite churches in one day, each performing five services each.
Married to his beautiful wife Peaces Ibiyeomie. God has blessed them with David Ibiyeomie Junior.
Nothing can be more frustrating in business than ignorance. Light is superior to darkness because it rules over darkness.

David Ibiyeomie, in this outstanding book, offers the reader a unique opportunity to dominate in business and make progress where others are crawling.

Wisdom is the principal thing (Proverbs 4: 7). It is business to insure your business; be diligent, faithful, have a kingdom dream, be informed and use the available. Revealed secrets make stars in life and business. Also, in this epoch making book, you will know-how to start business without money and some useful tips for business exploits.

8.500

CFA