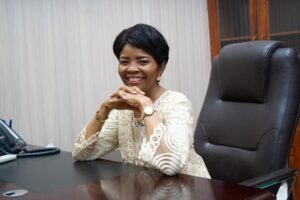 Pastor Faith Abiola Oyedepo is the wife of Dr. David Oyedepo, the founder of the World Living Faith Church, aka Overcomers Chapel, and Senior Pastor of Faith Tabernacle, Canaanland, Ota, Nigeria.
She is spreading the Good News of Jesus Christ with her husband, in many nations of the world, with the mission to liberate the oppressed.
The mandate that culminated in this ministry was received in 1981. She has a ministry to families and homes, to which she has dedicated her life, showing people God's perfect will for their homes and relationships. She also has a divine calling to make her shoulders available and enrich the lives of singles in a unique way.
Pastor Faith is appreciated by many in Nigeria and around the world, especially for her tireless work in strengthening the family unit. She has written several books, and has maximized various means of communication, such as the media, to become an authority on family, youth and women empowerment, as well as marital success.
With her life as a practical example, she has been able to portray a model lifestyle that others can replicate. She demonstrated in practical terms and with deep spiritual insight, that the home can truly be the Eden that God created it to be.
Her passion was further strengthened by a recent event in her life when her health was tested and she was supernaturally delivered from death. This renewed her zeal and hunger to make an impact on her world. Today, she is back, preaching the Word of God with a renewed sense of urgency and passion. This experience has been captured in her most compelling book, Saved from Destruction.
Despite all that God has accomplished in and through her, she believes that there are still other lives to impact and that the best is yet to come.
To God's glory, she has been married for over three decades now, with four wonderful adult children and grandchildren. It is obvious that God's hand is at work in her life, and God desires to extend that same hand in your direction.
Medical experts have failed in increasing dimensions to offer lasting solutions to man's health needs. This is evident in recent unexplainable discoveries of various sicknesses and diseases, some of which even threaten human existence. While science has evolved over the years and new inventions have been made, none of these have come close to giving man the kind of total health assurance God intended from the beginning.

Man may give you health 'insurance' but only God can give you health 'assurance'

Like you already know, sickness came into this world after the fall of man. However, where there is a cause, there is also a cure. The cure for sickness is in the Blood of Jesus Christ. Redemption through the Blood of Jesus Christ restores man to his original state in God, which precludes sickness.

Get this book by Pastor Faith Oyedepo and find out how to enjoy divine health because it is your redemption benefit

FAITH A. OYEDEPO – SHILOH

8.500

CFA