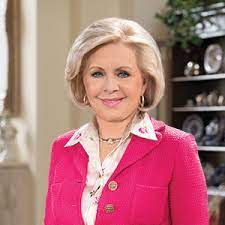 Gloria Copeland is a minister of the Gospel whose ministry is known around the world.
Through Conventions, magazine articles, audio teachings and instructional videos, she delivers the Word of God and the keys to victorious Christian living to millions of people each year.
Gloria has been serving the Lord with her husband, Kenneth, for 40 years. She has helped countless believers develop a deep relationship with God and a deeper understanding of His Word.
Gloria Copeland and her husband live in Fort Worth, Texas.
Many people have an incorrect concept of God as an angry taskmaster, which hinders them from coming to Him and receiving what Jesus died to purchase for them. Because God is actually full of love, He offers each person salvation, healing, deliverance, peace, and every other good thing listed in His Word. In BLESSED BEYOND MEASURE, Gloria Copeland shows readers how to embrace God's goodness and learn to trust Him with every area of their lives. She confirms, "Only by placing our lives in His hands can we open the way for Him to save us, and bless us, and work through us," generating lives of faith, hope, and confidence.

7.999

CFA