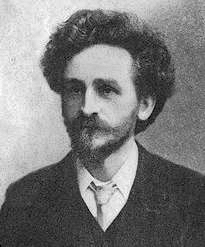 James Allen (November 28, 1864–1912) was a British philosophical writer known for his inspirational books and poetry and as a pioneer of the self-help movement. His best known work, As a Man Thinketh, has been mass produced since its publication in 1903. It has been a source of inspiration to motivational and self-help authors.
Born in Leicester, England, into a working class family, Allen was the eldest of two brothers. His mother could neither read nor write while his father, William, was a factory knitter. In 1879, following a downturn in the textile trade of central England, Allen's father traveled alone to America to find work and establish a new home for the family. Within two days of arriving his father was pronounced dead at New York City Hospital, believed to be a case of robbery and murder. At age fifteen, with the family now facing economic disaster, Allen was forced to leave school and find work.
For much of the 1890s, Allen worked as a private secretary and stationer in several British manufacturing firms. In 1893, Allen moved to London where he met Lily Louisa Oram who he then wed in 1895. In 1898, Allen found an occupation in which he could showcase his spiritual and social interests as a writer for the magazine The Herald of the Golden Age. At this time, Allen entered a creative period where he then published his first book of many books, From Poverty to Power (1901). In 1902, Allen began to publish his own spiritual magazine, The Light of Reason, later retitled The Epoch.
In 1903, Allen published his third and most famous book As a Man Thinketh. Loosely based on the biblical proverb, "As a man thinketh in his heart, so is he," the small work eventually became read around the world and brought Allen posthumous fame as one of the pioneering figures of modern inspirational thought. The book's minor audience allowed Allen to quit his secretarial work and pursue his writing and editing career. In 1903, the Allen family retired to the town of Ilfracombe where Allen would spend the rest of his life. Continuing to publish the Epoch, Allen produced more than one book per year until his death in 1912. There he wrote for nine years, producing 19 works
Following his death in 1912, his wife continued publishing the magazine under the name The Epoch. Lily Allen summarized her husband's literary mission in the preface to one of his posthumously published manuscripts, Foundation Stones to Happiness and Success saying:
"He never wrote theories, or for the sake of writing; but he wrote when he had a message, and it became a message only when he had lived it out in his own life, and knew that it was good. Thus he wrote facts, which he had proven by practice."
Although written back in 1911, this book proves that sometimes (and mostly) old wisdom transcends the change and the date that is focused on the character of the individual. James Allen begins this classic book with these words prosperity rests on a moral basis.

Not everyone will appreciate the style of writing of Allen, is, as I have said, written in the early 20th century, however, I do, and I personally love your metaphor for this work being based to build a temple of Prosperity and is eight pillars that support the temple.

The eight temples are (1) Energy (2) Economy (3) Integrity (4) System (5) Sympathy (6) Sincerity (7) Impartiality and (8) Self-Sufficiency.

Allen writes that "The moral force is the life of all the success, and sustaining element of prosperity." And, as most of the wisdom literature reminds us, it also highlights that there are several types of success and that we need to define what it really means to us, and not in comparison with others … which of course is perfectly aligned with the inescapable for a prosperous life, depicting the First inescapable truth as defining what a prosperous life for you truths.

A business built on impeccable practice of all these principles would be as firm and enduring as to be invincible. Nothing could harm him; nothing could undermine its prosperity, nothing could interrupt his success, or bring it to the floor; but that success would be guaranteed with steadily rising since the principles were respected.

6.700

CFA

"I looked around upon the world, and saw that it was shadowed by sorrow and scorched by the fierce fires of suffering. And I looked for the cause. I looked around, but could not find it; I looked in books, but could not find it; I looked within, and found there both the cause and the self-made nature of that cause. I looked again, and deeper, and found the remedy. I found one Law, the Law of Love; one Life, the Life of adjustment to that Law; one Truth, the truth of a conquered mind and a quiet and obedient heart. And I dreamed of writing a book which should help men and women, whether rich or poor, learned or unlearned, worldly or unworldly, to find within themselves the source of all success, all happiness, all accomplishment, all truth. And the dream remained with me, and at last became substantial; and now I send it forth into the world on its mission of healing and blessedness, knowing that it cannot fail to reach the homes and hearts of those who are waiting and ready to receive it."

7.500

CFA