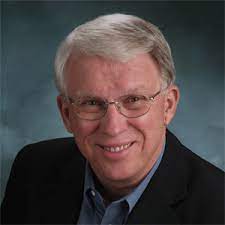 Crabb est né à Evanston , Illinois , États-Unis, en 1944 et était étudiant en psychologie jusqu'à ce qu'il commence à étudier la psychologie anormale et la théorie de la personnalité. Au cours de ses études supérieures, il a connu une période de profond scepticisme avant d'être ramené à la foi par Francis Schaeffer et CS Lewis . Sa passion spirituelle renouvelée l'a convaincu que le christianisme avait un rôle à jouer dans la psychologie clinique. [4]
Les premiers livres de Crabb étaient Basic Principles of Biblical Counseling (Zondervan, 1975) et Effective Biblical Counseling (Zondervan, 1977). Il a écrit plus de 40 livres; certains de ses plus connus incluent The Silence of Adam , Inside Out , Finding God , Connecting et Men & Women: Enjoying the Difference .
Il a fondé l'Institut de conseil biblique au début des années 1980 alors qu'il faisait partie de la faculté du Grace Theological Seminary (1982-1989). L'institut a depuis été remplacé par l' École des sciences du comportement . À partir de son livre Shattered Dreams (WaterBrook, 2001) décrivant le voyage de Naomi à partir du Livre de Ruth, New Way Ministries (la "nouvelle voie" de Romains 7: 6) a été créé en 2001 et dirige les conférences.
Crabb a été professeur adjoint de théologie appliquée au Regent College de 1998 à 1999, président et professeur, Master of Arts in Biblical Counseling Program, Colorado Christian University , 1989–1996, président et professeur, Graduate Department of Biblical Counseling, Grace Theological Seminary , 1982 –1989 et en pratique privée pour la psychologie clinique à Boca Raton, Floride, 1973-1982. Il était également le seul psychologue du Psychological Counseling Center, Florida Atlantic University [5] – Professeur adjoint, Département de psychologie 1971-1973 et professeur adjoint, Psychologie, University of Illinois Staff Psychologist, Student Counseling Center, University of Illinois, 1970-1971. Il a reçu le prix du professeur de l'année au département de psychologie en 1971. [1]
Crabb laisse dans le deuil sa femme, Rachael, et ses deux fils, Kep et Ken.
Le silence d'Adam aborde la question des luttes masculines avec sérieux et profondeur, et met en lumière les difficultés particulières auxquelles les hommes sont confrontés dans leurs relations. Les auteurs soulignent la vocation extraordinaire qu'ont les hommes de refléter Dieu d'une manière typiquement masculine, c'est-à-dire avec une force pleine de tendresse. Et ils les invitent à ne plus se laisser paralyser par la peur de l'échec mais à se lever pour agir, en prenant des risques, en démontrant une véritable profondeur spirituelle et en poursuivant les élans de leur cœur.

En ces temps où les hommes se posent des questions fondamentales, l'ouvrage de Larry Crabb et ses collègues
apporte un éclairage nécessaire sur l'identité masculine, sur ce qui ne va pas, et ce qu'il faut changer pour devenir de vrais hommes de courage.

11.870

CFA