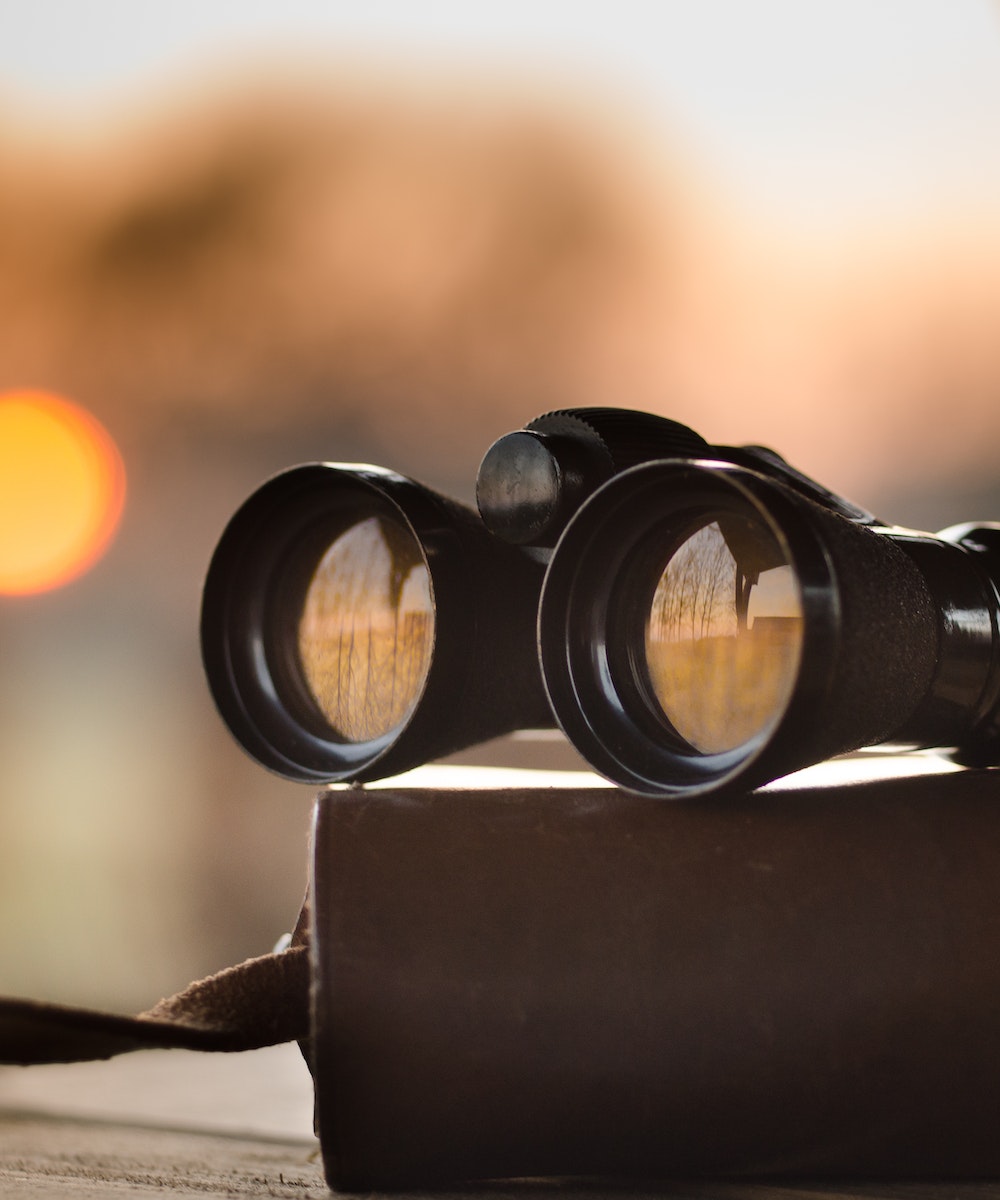 Have Good Vision
The subject of vision is very important in breaking down all the barriers of life. Although it is now popular in the body of Christ to talk about having visions and goals, just because it's popular doesn't mean it's done correctly and in a way that could help the visionary make an impact. It is important for you to set and achieve your purpose in life by pursuing the right vision for you.
Why, you may ask? Well, there's a strong chance that one might get trapped in what we'll call a "copied, locked-in vision and a life of mediocrity." It's very easy to try to be like someone else by copying what they do. The trap is when you compare yourself to your friends and cling to them, thinking that because they haven't left you behind or because you're catching up to them, you have a good vision.
A vision cannot be right if it simply involves copying others, trying to catch up, or being mediocre in life. A vision is also not right if all you do is repeat what others have done. Instead, it's about learning what God has in store for you, which can surpass what people you highly esteem have done. The right vision authenticates your life. It ensures that your life is no longer a mere copy. It prevents you from living synthetically what is authentic and real.
The right vision will give you a picture of your desired goal. It will clarify what your true destiny is so that you don't pursue what satisfies others and leaves you feeling empty. The right vision will kindle a unique passion within you that you cannot shake, ignore, or run away from. It may seem insignificant to others, but it ignites in you a burning desire to run and make it a reality.
Take the example of George Mueller, the man who spent his entire life leading an orphanage in Bristol, England. It may not excite others, but it was his passion. Seeing these children fed daily by faith and guiding them to grow in the grace of Christ was enough encouragement for Mr. Mueller. The right vision is what led Dr. Kenneth Hagin to resign from a comfortable pastorate to start a Bible school of faith in a lesser-known city called Tulsa, Oklahoma. It's the same kind of vision that drove Oral Roberts to have a passion for building a university, even though he had never attended one. His own limitations did not prevent him from achieving what he was meant to. Benny Hinn was once a stutterer, but he was excited whenever he saw the sick. He was excited about the desire to see them healed.
The right vision is what you are if it acts as your eye into the future, enabling you to see beyond the natural into the supernatural realm. An eternal weight of glory, because we look not at the things which are seen, but at the things which are not seen; for the things which are seen are temporal, but the things which are not seen are eternal. 2 Corinthians 4:18
It's the right vision if it increases your level of hope and faith so that with things that seem discouraging and unattainable, you understand that step by step, everything is within reach. When you have the right vision, it will help you locate your specific calling in life and pursue it. The right vision must rest on what God originally intended for you. If God hasn't spoken it, then you can't have it.
A vision that rests on what God originally intended for you is much easier to achieve. You have Heaven's cooperation, and you can make it a reality. The right vision is also about being in the right place; it's the appropriate place for your vision to come true. Mangoes don't grow in Europe; apples don't grow in Africa, especially in sub-Saharan Africa. It would be the right fruit in the wrong place. God commanded Elijah to go to Zarephath.
"Arise, go to Zarephath, which belongs to Sidon, and dwell there. Behold, I have commanded a widow there to feed you." 1 Kings 17:9
The right vision is also linked to God. Once you receive it from Him, you can be sure of its fulfillment because He will support everything He has told you.
"So, King Agrippa, I did not prove disobedient to the heavenly vision." Acts 26:19
The right vision isn't just having a good thought; it's also seeking God's spirit and using it. Many ideas pass through the mind, but not all of them are God's vision for you. The way to test a vision is to see if it aligns with what you believe God has asked you to do in your life. The right vision has a timing, and you must not miss your time.
"To everything there is a season, and a time to every purpose under the heaven." Ecclesiastes 3:1
The right vision paves the way to your goal because once it is born in your heart, even if there seemed to be no path before, there will be enough passion to lead you to your goal. The right vision creates the path to self-discovery. Your future is in your vision. Your true fulfillment, the expression of yourself, lies in your vision. The right vision is not a suspension of life's realities; it is an expression of them.
The right vision is an extension of life's realities and a conquest of the challenges that stand against God's divine plan for your life. You cannot complain about life, who you are now, and what you have become; it's the summary of the vision you have always had. If you don't like what you have and who you are, check your vision.
The vision presents you with new possibilities, expanded horizons, and great hopes to come. It is an essential step if you are to achieve what you want in life. The vision, like the word, helps you put on the binoculars of faith and see tomorrow while you are in today's markets.
The right vision provokes change; it demands perseverance, persistence until the battle is won, until there is an achievement. The right vision is always consistent with the environment God shows you as where you belong. It's not always the most comfortable, but it's the most comforting.
WRITE THE VISION
One of humanity's greatest discoveries is the ability to document things. Someone said, "A short pencil is better than a long memory." What you don't write down, you can't engage with. So, the prophet says:
"The Lord answered me: 'Write down the vision and make it plain on tablets so that a herald may run with it.'" Habakkuk 2:2
When your vision is written down, it gives you the ability to anticipate, prepare, and make arrangements for the future. If it's not written down, you have no commitment to it. A written vision brings together the different visions within you – insight, foresight, hindsight, foresight, and the ability to imagine.
The vision uses them effectively to coordinate a desired goal and to outline a method to achieve it. A person without a clearly written vision will be a slave to the opinions and visions of others. Progress in life is made through the image you've painted, the image you've seen. Your vision must be clearly written to enable you to pursue a desired tomorrow. God knows what He meant when He charged the prophet to say, "Write the vision; make it plain."
Imagine a 500-kilometer road trip; if you don't have clear road signs, it will take you longer to reach your destination. One of the advantages of living in London, a city with over 90,000 roads, streets, cul-de-sacs, alleys, main roads, etc., is the road map and the fact that each road is clearly marked with its name. It's much easier when you use a GPS (Global Positioning System). Once you have one in your car, you can go anywhere in London, and in no time, you reach your destination. Thus, guided by this GPS, you start from one end of the city of London, and you arrive at the other, precisely where you wanted to be.
Imagine you are in a third-world country with probably only 20,000 roads and streets. There is no GPS, and the roads are not clearly marked. There is no signage, so you don't know the street's name. You want to go from one end to the other – this would mean stopping and asking several people for directions. Sometimes, people deliberately give you wrong directions, leading you where you didn't want to go, increasing the time needed and possibly getting lost and having to turn around. When your vision is written, it serves as a GPS, bringing you to the right place at the right time. If you don't have a clearly written vision, you'll pursue what becomes mediocre, wanting to be busy even if you're not effective. Your progress will then be based on the fact that you have to depend on your friends to complete or where you should be.
Remember that your vision is your view of the future and your unique calling. It must be written so that you can pursue it. The vision will prevent you from living a life of bankruptcy. It will help you grow in God's kingdom. A man who cannot see beyond the tip of his nose has put his entire destiny and that of the generation that will come from him at risk. Vision is the foundation of life. Without it, moving forward is impossible.
Life could be a challenge without vision. It would require reprogramming the human body, relying on others to progress. That's precisely what happens when there is no vision. A written vision is best summarized by the acronym APA, which stands for "A Preview of My Next Attraction." Once you have your vision written and in sight, it continues to remind you of the desired destination.
How many people set visions and goals, but instead of writing them down, they keep them in the back of their minds. What you keep at the back of your mind may never manifest in front of your eyes, so if the vision is important, write it down because it will help you paint a mental picture of your desired endpoint.
It will help you determine your destiny so that you don't get carried away by the immediate and the temporary. Your life will be as great or as small as the vision you set in your heart. So when you write your vision and display it, your life becomes a success and not a waste, because you will be as great or as small as the vision you set in your heart …
This text is an extract from the book "BE THE BEST" written by Matthew Ashimolowo.