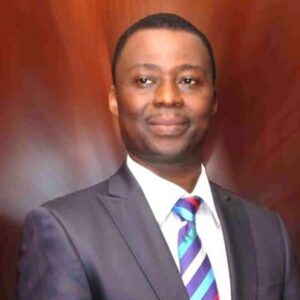 Dr Daniel Kolawole Olukoya (DKO) ou DR. D. K. OLUKOYA est le fondateur de l'église Mountain of Fire and Miracles Ministries (MFM) en 1989 .
Il est né à Akure, dans l'État d'Ondo, au Nigeria, de M. Olukoya, officier de police, et de Mme Olukoya, commerçante. John's CAC Primary School, à Akure, il a été reconnu comme un enfant exceptionnellement intelligent qui s'est distingué tout au long de son séjour à l'école. Plus tard, lorsque sa famille a déménagé à Lagos, il a été inscrit à l'école primaire St. Jude, Ebute metta, d'où il est sorti avec d'excellents résultats.
DKO s'est ensuite rendu au Methodist Boys' High School (MBHS), Broad Street, Lagos (fondée en 1878). C'est d'ailleurs là qu'il est né de nouveau. C'est aussi à MBHS qu'il a rencontré un enseignant indien qui lui a dit un jour en classe : " Les garçons, si vous voulez échapper à la pauvreté, LISEZ VOTRE LIVRE ! DKO a suivi ce conseil avec ténacité, étudiant de 21h à 3h du matin tous les jours. Lorsque DKO a terminé ses études à MBHS, il était le meilleur élève de son groupe.
En 1976, le DKO a été admis à l'Université de Lagos (Unilag) pour étudier la microbiologie. Il a obtenu un diplôme de première classe en microbiologie à l'Unilag en 1980. Il a été la première personne à avoir obtenu une première classe dans ce cours à l'université et son G.P.A est toujours le plus élevé enregistré jusqu'à présent (en février 2010) dans ce cours.
Peu après avoir obtenu son diplôme, DKO a obtenu une bourse pour étudier en vue d'obtenir un doctorat en génétique moléculaire à l'Université de Reading, au Royaume-Uni. Malgré la difficulté naturelle du programme, DKO a obtenu son doctorat en 3 ans et est retourné au Nigeria.
A son retour au Nigeria, DKO a rejoint le Nigerian Institute of Medical Research (NIMR), Yaba, où sa réputation de généticien exceptionnel d'origine africaine s'est établie. Le DKO s'est imposé comme une autorité dans l'étude de la génétique, publiant plus de 70 articles scientifiques en peu de temps (un exploit remarquable à tous points de vue). Il a également enseigné la génétique et a été examinateur externe dans un certain nombre d'universités. De plus, il a assisté et présenté des articles à des conférences scientifiques dans presque tous les continents du monde. Aujourd'hui encore, le DKO continue de contribuer au domaine de la génétique et de la biotechnologie par l'intermédiaire de la Fondation de biotechnologie Daniel & Fola, une ONG enregistrée créée pour donner aux citoyens nigérians des compétences de laboratoire modernes et contemporaines en biologie moléculaire et en biotechnologie.
Le père de DKO, en plus d'être policier, était également pasteur à l'Église Apostolique du Christ (CAC). Ainsi, il a été élevé dans un foyer chrétien avec des croyances chrétiennes. Pendant toutes ses années d'école, DKO s'est engagé au service du Seigneur Jésus-Christ. Sa passion pour Jésus et son feu spirituel ont augmenté énormément pendant son doctorat au Royaume-Uni. Le ministère de DKO est fortement influencé par le travail de feu l'apôtre Joseph Ayodele Babalola, le fondateur de l'église CAC. Dans les pages de dédicace des livres Pluie de prière et Passeport de prière, le DKO écrit de l'apôtre Babalola.
101 armes de guerre spirituelle
Jamais dans l'histoire du monde il n'y a eu d'ère de guerre, tant physique que spirituelle, comme cette ère. C'est une ère de guerre plus difficile. De plus en plus de personnes sont soumises à l'esclavage, plus qu'à toute autre période de l'histoire humaine. Il existe des cas d'esclavage profond, d'attaques rares contre la famille et d'horribles événements dans la vie des individus. Le diable a fait beaucoup de ravages sur l'humanité. La Bible a décrit en termes vivants que Dieu est conscient de la grande série d'hostilités démoniaques. Par conséquent, le Saint-Esprit a publié les révélations prophétiques de ce livre afin de nous mettre en bonne place pour un rôle unique en cette fin des temps. Ce manuel est le premier du genre.

Dieu est conscient de la grande avalanche des hostilités démoniaques. C'est pourquoi le Saint-Esprit a vomi des révélations prophétiques dans ce livre afin de nous placer dans une bonne place pour
votre rôle unique dans cette fin des temps. Ce manuel est le premier de ce genre.

Ce manuel dépasse toute la totalité des armes nucléaires mises ensemble par les nations du monde. Dieu a juste lancé une catégorie d'armes qui n'a jamais été recherchée ou présentée dans notre histoire globale.

Ceci est le sommet de la délivrance. Nous sommes au seuil d'un réveil du combat spirituel. L'effet large et étendue sera mieux décrit comme Incroyable.

C'est le sommet de la délivrance. Nous sommes le seuil d'un renouveau de la guerre spirituelle. Le balayage et l'effet de grande portée seront mieux décrits comme impressionnants!

14.000

CFA