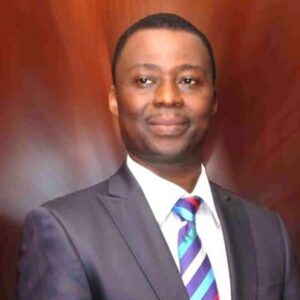 Dr. Daniel Kolawole Olukoya (DKO) or DR. D. K. OLUKOYA is the founder of Mountain of Fire and Miracles Ministries (MFM) in 1989.
He was born in Akure, Ondo State, Nigeria to Mr. Olukoya, a police officer, and Mrs. Olukoya, a trader. At St. John's CAC Primary School in Akure, he was recognized as an exceptionally bright child who distinguished himself throughout his time at the school. Later, when his family moved to Lagos, he was enrolled at St. Jude's Primary School, Ebute metta, from where he graduated with excellent results.
DKO then went to Methodist Boys' High School (MBHS), Broad Street, Lagos (founded in 1878). This is where he was born again. It was also at MBHS that he met an Indian teacher who told him one day in class, "Boys, if you want to escape poverty, READ YOUR BOOK! DKO followed this advice tenaciously, studying from 9pm to 3am every day. By the time DKO graduated from MBHS, he was the top student in his group.
In 1976, DKO was admitted to the University of Lagos (Unilag) to study microbiology. He graduated with a first class degree in microbiology from Unilag in 1980. He was the first person to have obtained a first class in this course at the university and his G.P.A is still the highest recorded so far (as of February 2010) in this course.
Shortly after graduation, DKO was awarded a scholarship to study for a Ph.D. in Molecular Genetics at the University of Reading, UK. Despite the natural difficulty of the program, DKO completed his PhD in 3 years and returned to Nigeria.
On his return to Nigeria, DKO joined the Nigerian Institute of Medical Research (NIMR), Yaba, where his reputation as an outstanding geneticist of African descent was established. DKO established himself as an authority in the study of genetics, publishing over 70 scientific papers in a short period of time (a remarkable feat by any standard). He has also taught genetics and served as an external examiner at a number of universities. In addition, he attended and presented papers at scientific conferences in almost every continent of the world. Today, DKO continues to contribute to the field of genetics and biotechnology through the Daniel & Fola Biotechnology Foundation, a registered NGO established to provide Nigerian citizens with modern and contemporary laboratory skills in molecular biology and biotechnology.
DKO's father, in addition to being a police officer, was also a pastor at the Christ Apostolic Church (CAC). Thus, he was raised in a Christian home with Christian beliefs. Throughout his school years, DKO was committed to the service of the Lord Jesus Christ. His passion for Jesus and his spiritual fire grew tremendously during his PhD in the UK. DKO's ministry is heavily influenced by the work of the late Apostle Joseph Ayodele Babalola, the founder of the CAC church. In the dedication pages of the books Rain of Prayer and Passport to Prayer, DKO writes of Apostle Babalola.
101 armes de guerre spirituelle
Jamais dans l'histoire du monde il n'y a eu d'ère de guerre, tant physique que spirituelle, comme cette ère. C'est une ère de guerre plus difficile. De plus en plus de personnes sont soumises à l'esclavage, plus qu'à toute autre période de l'histoire humaine. Il existe des cas d'esclavage profond, d'attaques rares contre la famille et d'horribles événements dans la vie des individus. Le diable a fait beaucoup de ravages sur l'humanité. La Bible a décrit en termes vivants que Dieu est conscient de la grande série d'hostilités démoniaques. Par conséquent, le Saint-Esprit a publié les révélations prophétiques de ce livre afin de nous mettre en bonne place pour un rôle unique en cette fin des temps. Ce manuel est le premier du genre.

Dieu est conscient de la grande avalanche des hostilités démoniaques. C'est pourquoi le Saint-Esprit a vomi des révélations prophétiques dans ce livre afin de nous placer dans une bonne place pour
votre rôle unique dans cette fin des temps. Ce manuel est le premier de ce genre.

Ce manuel dépasse toute la totalité des armes nucléaires mises ensemble par les nations du monde. Dieu a juste lancé une catégorie d'armes qui n'a jamais été recherchée ou présentée dans notre histoire globale.

Ceci est le sommet de la délivrance. Nous sommes au seuil d'un réveil du combat spirituel. L'effet large et étendue sera mieux décrit comme Incroyable.

C'est le sommet de la délivrance. Nous sommes le seuil d'un renouveau de la guerre spirituelle. Le balayage et l'effet de grande portée seront mieux décrits comme impressionnants!

14.000

CFA